By Kit Riley
Colorado, USA
Sarah and I volunteer together, teaching deaf kids to ski in Winter Park, Colorado. Business contributions make it possible, but it's the 700 volunteers working with disabled and disadvantaged skiers who make it happen.
She's also a Red Cross volunteer. One thing that Red Cross stresses is for volunteers to talk about their experiences so they don't get overwhelmed. When Sarah recently learned I also volunteered with Red Cross, she shared her New York City experiences.
Sarah is one of the volunteers who handles feeding the masses at disaster sites — victims and volunteers alike. Sarah went through her training anticipating working at floods, fires and tornados in Colorado, and in fact her first call-out was for a flood.
Her second call-out came September 11. As soon as commercial airline flights resumed service she went to New York City to feed people at Ground Zero. What she found initially damped her spirits — the smell was so bad she vomited for two hours. Once she regained her composure she bounced into action, to do what she was trained. Even that was hard, though. Wading through 12 inches of dust, debris, personal belongings and body parts was almost more than she could bear.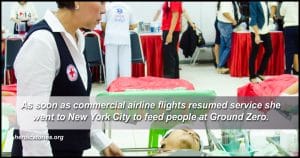 Bob, an FBI agent who lives in Manhattan, stepped in and "adopted" Sarah. Bob and his wife reminded Sarah constantly that she needed to take care of herself too, or she wouldn't be of any value to those she was serving. When she reached her limits, they were able to soothe her. They did for her what she did for the other disaster relief workers.
Sarah worked the food lines daily. She became friends with the firemen and police officers. She brightened their days with her contagious smile and laugh. After two straight weeks, Bob insisted she go home for a break, since she clearly needed it.
If that was the end of the story, it would be enough. But Sarah returned to New York in February, on her own time. She had saved for two years to go to Europe for a month with her mom and sister. But instead of going to Europe, they spent their trip money on New York hotels, restaurants, theaters, shops, and street stands to help the suffering local economy. The trip provided closure for Sarah. She bought a new suitcase for the trip because the previous one smelled. She visited Bob. She went to the World Trade Center viewing stand. And she visited her firefighter friends.
Sarah doesn't try to convince others to give of themselves. She simply "walks the talk." Though I'm already involved with volunteering, she has motivated me to do more. Sarah doesn't shrink from uncomfortable or inconvenient volunteer jobs. She's shown me the importance of being there because you are needed, not because it's easy or fun. I've been considering getting more involved with Red Cross. Following Sarah's example, I have now quit talking and am striving to follow her footsteps.
—
Editor's Note: the author is HeroicStories' former Managing Editor. Her web site is http://www.sageblossom.com

Podcast: Play in new window | Download (Duration: 4:00 — 3.7MB)
Originally published as HeroicStories #284 on March 4, 2002