by Helen Rubenstein
New York, New York, USA
I had the good fortune to help at the Red Cross today. At 7:40 a.m., 12 September 2001, I arrived at the American Red Cross (ARC) building. Already scores of people milled around, including red-jacketed staff. I approached a friend from my days of teaching supervision at ARC and offered help. I was instantly put to work greeting those who'd come to volunteer their services. "I'll carry rocks," one man said. People approached by the hundreds, some shy, some chomping at the bit, all eager to do something — anything.
The ARC is adamant about not endangering volunteers. Yesterday alone, they trained 3,000 volunteers in disaster-related work, from clearing debris, helping families seeking loved ones, or assisting evacuated families. *Three thousand* people.
Soon we, behind our volunteer registration forms, had to tell people training classes were full. They asked to donate blood. We sent them to Martin Luther King High School, the blood drive site. By 10 a.m., we had to tell people burning to do something, anything, "Come back tomorrow."
One woman said her son had worked nine hours assisting firefighters to move rubble, and it was her turn. She wouldn't leave. I sent her to a supervisor, and later passed her busily working. I told a young man — barely 20 years old — that we'd call him back. He replied, "I came from New Hampshire." With a Red Cross group? "No, I just came." He got to help that day.
At 10:30 a.m. I answered phones. I saw disaster-workers return with haunted, glazed looks. They came for "debriefings" — a talk with a mental health professional about their experience working a disaster.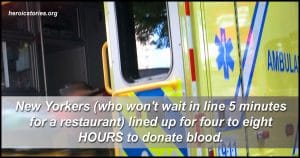 A company called asking whether someone could accept a check today. "Yes!" Someone in Chicago had a truckload of produce in the NY area to donate. A pastor who worked disaster relief in Rwanda wanted to trauma-counsel disaster workers. "Come directly here." A nurse with EMT training wanted to know where she's most needed. Medical personnel were being sent to Chelsea Piers.
By lunch every form of comfort food known had been donated to feed the hundreds of volunteers and staff working at ARC headquarters. Meat loaf, mashed potatoes, peanut butter and jelly, cheese doodles and chocolate chip cookies. Oh, look! There's a can of water-packed tuna and a plate of spinach. Naaah. Not today.
I stood and ate, listening to TV and the conversation around me: "Let's destroy their camps." "I don't think killing more people will do anything to stop this." "The economy." "Who'll fly?" The talking heads on TV finally have something besides the trivial to talk about.
New Yorkers (who won't wait in line 5 minutes for a restaurant) lined up for four to eight HOURS to donate blood. In the face of increasing danger from unstable buildings, workers returned again and again, searching, hoping for signs of life in the rubble. There were thousands of heroes that day. May the awe-inspiring spirit of all who helped that day resonate around the world.
(Editor's Note: to donate to the American Red Cross New York chapter online, go to http://www.NYRedCross.org/donate . If that server is busy, mail it to ARC, 150 Amsterdam Ave, New York, NY 10023 USA or call toll free 800-514-5103. You can also donate online via Yahoo or Amazon.com, but beware of fraudulent donor sites that are trying to take advantage of your generosity. Please donate DIRECTLY via sites YOU recognize! Sadly, there ARE fraudsters out there trying to take advantage of this tragedy.)
Originally published as HeroicStories #236 on Sept 17, 2001

Podcast: Play in new window | Download (Duration: 4:02 — 3.8MB)