by Kevin Cashman
Abington, Massachusetts, USA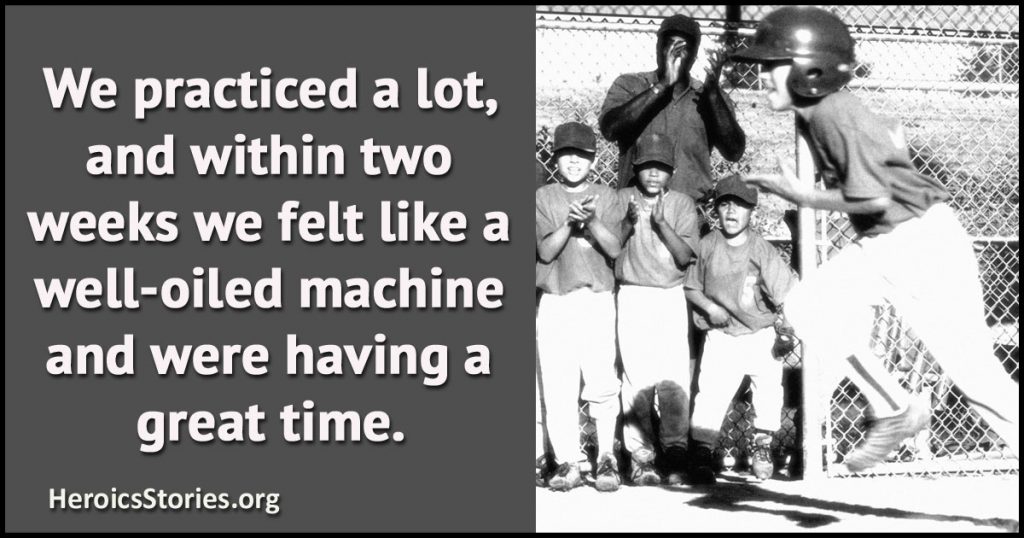 I was 11 years old, playing little league baseball in my small hometown. The season ended and I didn't make the all-star team that was to compete in regional tournaments leading up to the Little League World Series. I figured I was done playing for the year, until I got a call from Mr. Green.
Mr. Green was the coach of another team in the league, but I didn't know him. I found out later that he had a son that used to play in the league, but he was now full grown. He had continued to teach the game for years after his son stopped playing.
He said the all-star team wasn't taking full advantage of all the tournaments, so he had volunteered to assemble a "B" all-star team. We wouldn't be eligible for the advanced tournaments, but would play in some significant games. So, would I like to play? You bet I would.
He and his assistant coach "Mr. T" were simply the best coaches I ever had in sports. They treated us like ball players, but never forgot we were kids who wanted to have fun. But one thing bothered me: I was feeling bad for my older (12-year-old) brother. He hadn't been picked for either team, even though I thought he was good enough. I asked Mr. Green about this one day. Without batting an eye he said something to the effect that "I was going to call him today. We had a kid cancel on us and he was next in line. Do you think he'd want to play?" I'll be right back, I said, and excitedly hopped on my bike to go grab him for practice.
The coaches taught us the intricacies of the game. We practiced a lot, and within two weeks we felt like a well-oiled machine and were having a great time. We even crushed the original all-start team by 10 runs in two practice games! We felt unbeatable!
Felt like it, but we weren't. We won quite a few games, mostly in exciting fashion. But eventually we were eliminated and our second season was over. We weren't as upset about losing as we were about the fact that something that felt magical and special to us was ending.
My brother and I still look back on that summer with awe and a lot of emotion. After over 20 years, the memories of the games themselves have disappeared, but the feeling never has. And it's that feeling that is further emboldened by the realization that it all came to pass because two men decided to give up their summer so a group of kids they didn't even know could just play the game of baseball for a little while longer.
Oh, and my brother? The last man to make the team? All he did was bat cleanup and lead the team in homers and game-saving catches in center. I KNEW he belonged!

Podcast: Play in new window | Download (Duration: 4:17 — 3.4MB)