by Leslie Janik
Martinez, California, USA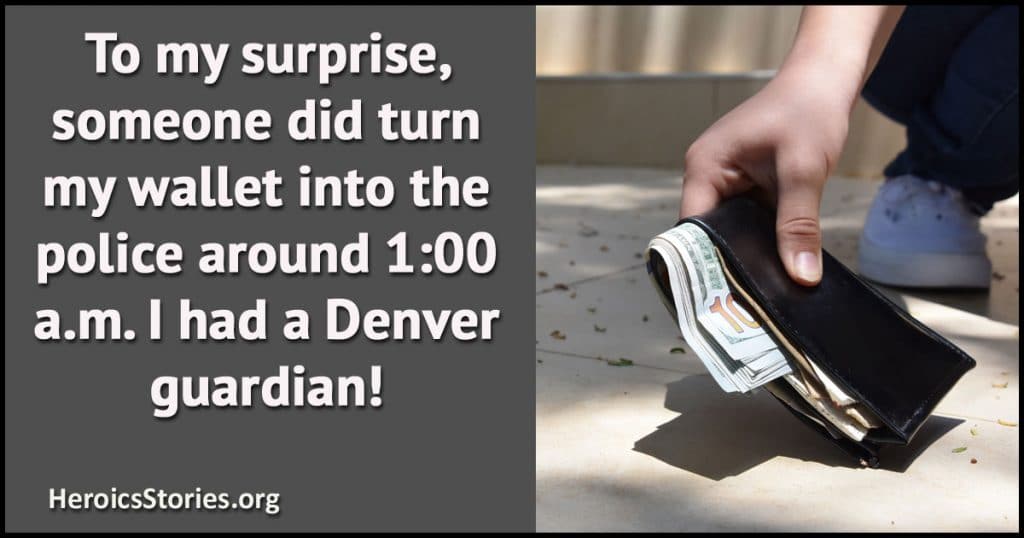 I had been traveling quite a bit for two months, and was in Denver conducting performance reviews for two of my employees. The first night I took them out to dinner and drinks, and we left the lounge around midnight. Our car was parked in a garage three blocks away.
As I climbed into the sport utility vehicle, my cell phone fell out of my commuter bag. I realized that the pocket was not completely zipped and if my cell phone could fall out, my billfold could also. I checked the bag and sure enough, no wallet.
I took off my heeled shoes to quickly retrace my footsteps. One of the ladies with me urged me to put my shoes back on, but I was frantic and couldn't wait or stay calm. My billfold not only has most of my credit cards in it, but I was leaving for vacation in less than a week. I didn't know how I could leave without picture identification, let alone get back to California the next day.
We retraced our steps precisely, to no avail. I was frustrated and angry. We had been through that route only five minutes before. How could it be gone already? I started looking at the people on the street with skepticism. We walked slowly back to the parking garage, this time checking every garbage can and bush, hoping someone had emptied the wallet of cash and tossed it.
My first experience of good fortune was that the hotel checked me in, even without my credit card. I sighed a deep sigh, and went upstairs to try to cancel as many credit cards as possible that night. I called the police department, but nobody had turned anything in. I finally fell asleep around 2:15 a.m.
I woke up early to go back and check the street drains that were too dark to see into the night before. I looked in more garbage cans and dumpsters. Nothing.
I returned to my car embarrassed that I had been so careless, and disappointed that someone immediately took advantage of that. In my moment of gloom I decided to try the police department one last time before conducting the business that I came to Denver for in the first place.
As I was put on hold, I laughed at myself for thinking it was even possible that someone returned my wallet between midnight and 8:00 a.m. To my surprise, someone did turn my wallet into the police around 1:00 a.m. I had a Denver guardian! I wanted to extend my thanks to this mystery person, but the wallet was returned anonymously. Everything was in it — cash, credit cards, stamps, Nordstrom gift certificate, checks I had not yet cashed — everything!
So now I thank you, kind citizen, not only for returning the wallet of a stranger from another state, but for restoring my belief that most people are good.
Originally published as HeroicStories #205 on April 9, 2001

Podcast: Play in new window | Download (Duration: 4:18 — 3.7MB)