by Pamela Wilkinson
Santa Barbara, California, USA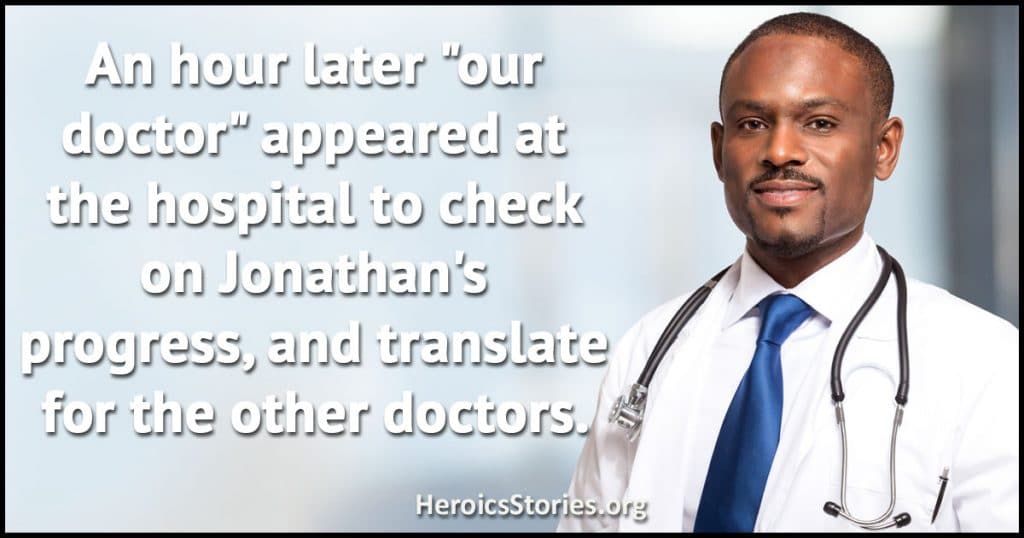 In 1991, my husband and I moved from the U.S. to Central Europe with our sons. Newly arrived, we visited Prague. After a day of touring, as we rode the escalator underground to catch the metro, my son Jonathan, 5, called to me. "Mom, I'm stuck!" I looked down and saw his shoe was caught between the moving metal stair and the stationary side of the escalator.
Stooping to pull him out, I realized with horror how stuck he was, and his shoe was being pulled in further. My husband also tried, but he couldn't free him either, and the escalator continued rapidly down toward the station. There was no emergency button to push and no attendant watching. I became hysterical.
Finally, by some fluke, a piece of metal broke off the stair, which jammed and stopped the escalator abruptly. But now we saw Jonathan was injured — his big toe was gone, his foot had other injuries, and he was going into shock. There we were, halfway around the world from our home, deep underground, no telephone in sight, we couldn't speak the language, our child was hurt and needed a hospital. I was desperate.
"Can I help you?" asked an elderly man who suddenly appeared beside me. My earlier screams had attracted attention! "I am a doctor," he said in English. For the next two hours, he helped with first aid, and found the workstation of the escalator where he roused the attendant, a telephone, and medical supplies. He telephoned for the ambulance, and translated through pages of forms necessary for the accident report. All this time he reassured us: the ambulance was coming, he would find a good surgeon, Jonathan would be fine. He translated for the paramedics and made arrangements for emergency surgery at a children's hospital.
An hour later "our doctor" appeared at the hospital to check on Jonathan's progress, and translate for the other doctors. By now it was nearly midnight. He gave me his business card, and told us to contact him if we needed help. "But no charge, of course not, this isn't a business situation," he insisted. Who knows where he had been headed when he heard my calls for help? Like an angel, he had suddenly appeared, guided us through an overwhelming situation, and disappeared with a friendly wave.
Later, I wrote to thank him for the tremendous assistance he had given us. He replied, "I have grandchildren like your son. Think nothing of it. You will always be like part of my family."
I will always be grateful for the time and the assistance he offered so willingly, calmly helping us get through a crisis, and following through to make sure things worked out. His selfless actions helped me understand what a huge difference it makes when we help others.

Podcast: Play in new window | Download (Duration: 4:14 — 3.5MB)