by Carmen Leal
Lake Mary, Florida, USA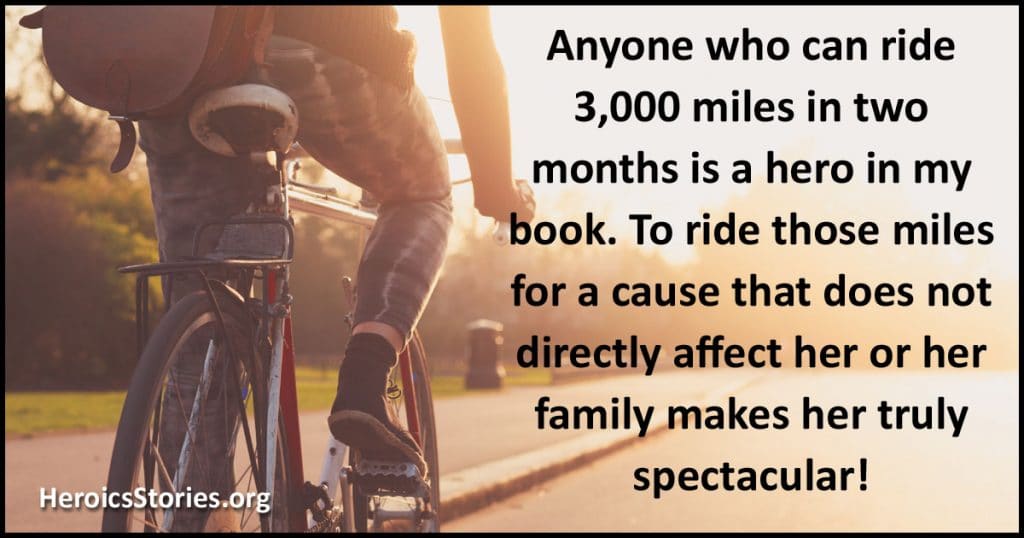 My husband Dave has Huntington's Disease. Because this terminal neurological disorder is not well known, I decided to write a book to create awareness and help those who suffer. The release of the book coincided with the 1998 Huntington's Disease convention in Denver, Colorado.
I met a friend, Marie, through an online writing list. She lives in Colorado and agreed to accept shipment of my books for the convention and store them for six weeks. She also attended the convention, though she had never heard of this disease before meeting me.
It all had quite an impact on her. An avid biker, Marie has decided to raise funds for HD through biking. She and two friends, Charlotte and Evelyn, are now making a trip that is destined to change not only their own lives but thousands more by riding their bicycles to raise money and awareness for Huntington's Disease. Marie is a woman with a heart the size of Alaska. She told me she wants to play an active role in finding a cure for the thousands of people who live with this devastating disease.
Marie and friends are following the old "Route 66" through California, Arizona and New Mexico. They will continue through Colorado, Kansas, Missouri, Kentucky, West Virginia, Maryland and into Arlington, Virginia, for the 1999 convention. By averaging approximately fifty miles a day, the trio hopes to reach their goal of 3,000 miles in two months.
And Marie is not your typical athlete biking her way across America. Her family climbed Pikes Peak as a fund raiser for the Brain Injury Association of Colorado, and she has been riding "seriously" for only one year! She recently completed a 150-mile "circumnavigational" bicycle ride around the island of Oahu, in Hawaii.
Anyone who can ride 3,000 miles in two months is a hero in my book. To ride those miles for a cause that does not directly affect her or her family makes her truly spectacular!
(Carmen's book can be found at: https://www.amazon.com/Faces-Huntingtons-Carmen-Leal-ebook/dp/B007SC7A4M)
Originally published as HeroicStories #7 on May 15, 1999

Podcast: Play in new window | Download (Duration: 3:32 — 1.7MB)