by The Bystander
England, United Kingdom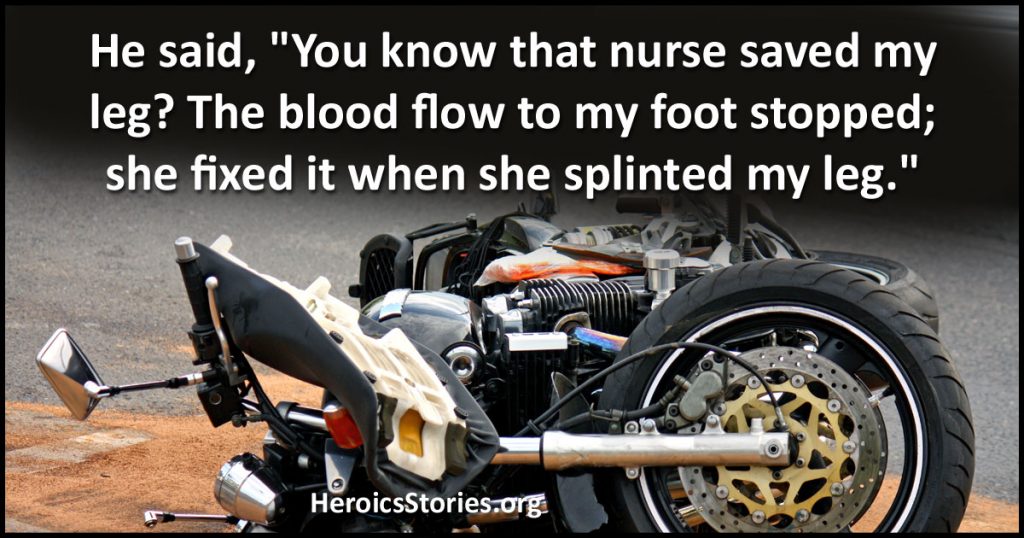 One freezing November day I drove to the market along an icy road. As I came around the corner, a motorcyclist was on the freezing ground, his bike partly under a car. I joined the crowd of people surrounding him hoping to help. He was bleeding, his left ankle and leg clearly broken, and perhaps worse, he was struggling to breathe.
The man whose car had hit the motorcyclist was hysterical, yelling, "My God, I didn't see him, I didn't even see him!"
Then a car pulled up, and a heavy lady with a stick hopped out. She told her husband, "Get my first-aid kit and blankets." She put bystanders to work: "Direct traffic around us." "Put out those cigarettes!" "Go to the intersection and flag the ambulance." People were grateful to be useful.
She knelt on the icy ground and assessed the motorcyclist. He was in the middle of an asthma attack, so she helped him use his inhaler, calmed him and gave him a sense of safety. I could see his breathing improve. She smiled, "I'm a nurse, I'm going to help you. Just be calm. The ambulance will be here soon. Everything will be OK." She quickly splinted his ankle and leg.
She turned to the driver of the car, and said, "He's OK, now go sit, it's all right." The warmth of her words calmed the hysterical man.
When the ambulance arrived half an hour later, she handed over his care and offered to call the motorcyclist's wife to meet him at the hospital. I overheard, "Your husband is OK, no, he's fine, really, but he's been in a little accident…."
As police spoke to the car's driver, with the ambulance on the way, we all began to leave. Then I saw the nurse's husband helping her to her feet, and supporting her as she struggled to walk back to her car. As he walked around to his door, I asked her husband if she was OK.
"She has a spinal injury and is in constant pain, and kneeling on the cold ground is about the worst thing for her," he said. "She'll be in bed for a week now."
I asked why she stopped. He looked at me and said, "She's a nurse. She couldn't possibly drive by anyone who needed her, no matter what. She doesn't care about her own pain… well, she's a nurse, that's all."
She called him to the car. They waved goodbye.
About a month later, I saw the motorcyclist in a local coffee shop and asked how he was doing. "Great!" he said, "You know that nurse saved my leg? The blood flow to my foot stopped; she fixed it when she splinted my leg. If we'd waited for the ambulance it would have been too late. She didn't give my wife her name, do you know her?"
All her husband said, I replied, was: "She's a nurse".
Originally published as HeroicStories #801 on June 5, 2010

Podcast: Play in new window | Download (Duration: 3:59 — 1.9MB)