The‌ ‌Lesson‌ ‌My‌ ‌Mom‌ ‌Taught‌ ‌Me‌
‌–Anonymous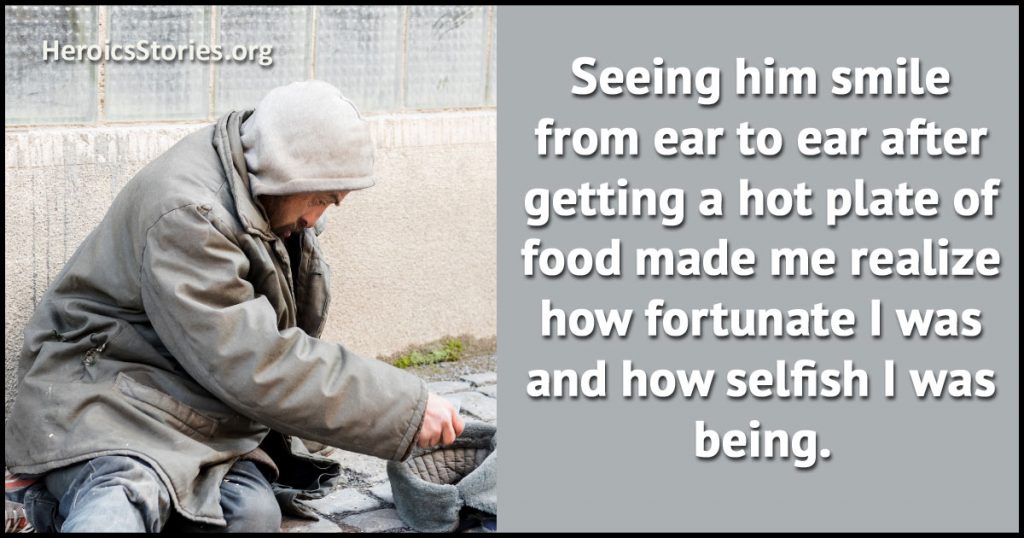 I‌ ‌moved‌ ‌to‌ ‌Canada‌ ‌from‌ ‌El‌ ‌Salvador‌ ‌a‌ ‌few‌ ‌years‌ ‌ago.‌ ‌El‌ ‌Salvador‌ ‌is‌ ‌filled‌ ‌with‌ ‌poverty‌ ‌and‌ ‌there‌ ‌are‌ ‌many‌ ‌people‌ ‌who‌ ‌‌are‌ ‌homeless.‌ ‌The‌ ‌story‌ ‌I'm‌ ‌about‌ ‌to‌ ‌tell‌ ‌happened‌ ‌when‌ ‌I‌ ‌was‌ ‌around‌ ‌eight‌ ‌years‌ ‌old,‌ ‌but‌ ‌I'm‌ ‌certain‌ ‌it‌ ‌‌will‌ ‌be‌ ‌embedded‌ ‌in‌ ‌my‌ ‌mind‌ ‌until‌ ‌the‌ ‌day‌ ‌I‌ ‌pass‌ ‌away.‌ ‌ ‌
‌One day, my‌ ‌mom‌ ‌and‌ ‌I‌ ‌went‌ ‌to‌ ‌a‌ ‌Mexican‌ ‌restaurant‌ ‌close‌ ‌to‌ ‌my‌ ‌house‌ ‌to‌ ‌buy‌ ‌some‌ ‌food‌ ‌for‌ ‌my‌ ‌dad,‌ ‌who‌ ‌was‌ ‌sick.‌ ‌I‌ ‌was‌ ‌not‌ ‌very‌ ‌thrilled‌ ‌about‌ ‌the‌ ‌idea‌ ‌of‌ ‌going‌ ‌out‌ ‌and‌ ‌helping‌ ‌my‌ mom‌ ‌—‌ ‌I‌ ‌would‌ ‌have‌ ‌rather‌ ‌stayed‌ ‌at‌ ‌home‌ ‌and‌ ‌played‌ ‌video‌ ‌games‌ ‌all‌ ‌day.‌ ‌ ‌
‌While‌ ‌we‌ ‌were‌ ‌waiting‌ ‌for‌ ‌the‌ ‌food‌ ‌to‌ ‌be‌ ‌ready,‌ ‌my‌ ‌mom‌ ‌suggested‌ ‌we‌ ‌take‌ ‌a‌ ‌walk‌ ‌around‌ ‌the‌ ‌block‌ ‌to‌ ‌kill‌ ‌time.‌ ‌During‌ ‌our‌ ‌walk,‌ ‌we‌ ‌found‌ ‌an‌ ‌older‌ ‌guy‌ ‌sitting‌ ‌on‌ ‌the‌ ‌street‌ ‌with‌ ‌a‌ ‌sign‌ ‌that‌ ‌said,‌ ‌"Necesito‌ ‌comida‌ ‌por‌ ‌favor,"‌ ‌which‌ ‌is‌ ‌Spanish‌ ‌for‌ ‌"I‌ ‌need‌ ‌food,‌ ‌please." Since‌ ‌I‌ ‌was‌ ‌mad‌ ‌at‌ ‌my‌ ‌mom‌ ‌for‌ ‌making‌ ‌me‌ ‌go‌ ‌with‌ ‌her,‌ ‌I‌ ‌did‌ ‌not‌ ‌give‌ ‌that‌ ‌guy‌ ‌a‌ ‌second‌ ‌thought,‌ ‌but‌ ‌thankfully‌ ‌my‌ ‌mom‌ ‌decided‌ ‌to‌ ‌go‌ ‌back‌ ‌into‌ ‌the‌ ‌restaurant‌ ‌and‌ ‌buy‌ ‌an‌ ‌extra‌ ‌plate‌ ‌of‌ ‌food‌ ‌for‌ ‌him.‌ ‌ ‌
‌So‌ ‌after‌ ‌we‌ ‌had‌ ‌the‌ ‌food,‌ ‌we‌ ‌approached‌ ‌the‌ ‌homeless‌ ‌person‌ ‌and‌ ‌I‌ ‌gave‌ ‌him‌ ‌the‌ ‌plate‌.‌ ‌I‌ ‌can‌ ‌say‌ ‌with‌ ‌confidence‌ ‌that‌ ‌that‌ ‌was‌ ‌one‌ ‌of‌ ‌the‌ ‌best‌ ‌moments‌ ‌of‌ ‌my‌ ‌life.‌ ‌Seeing‌ ‌him‌ ‌smile‌ ‌from‌ ‌ear‌ ‌to‌ ‌ear‌ ‌after‌ ‌getting‌ ‌a‌ ‌hot‌ ‌plate‌ ‌of‌ ‌food‌ ‌made‌ ‌me‌ ‌realize‌ ‌how‌ ‌fortunate‌ ‌I‌ ‌was‌ ‌and‌ ‌how‌ ‌selfish‌ ‌I‌ ‌was‌ ‌being.‌ ‌ ‌
‌‌I‌ ‌hugged‌ ‌my‌ ‌mom‌ ‌and‌ ‌thanked‌ ‌her‌ ‌for‌ ‌making‌ ‌me‌ ‌go‌ ‌and‌ ‌do‌ ‌that.‌ ‌I‌ ‌will‌ ‌forever‌ ‌be‌ ‌grateful‌ ‌to‌ ‌my‌ ‌mom‌ ‌for‌ ‌the‌ ‌lesson‌ ‌she‌ ‌taught‌ ‌me‌ ‌that‌ ‌day.‌ ‌From‌ ‌that‌ ‌day‌ ‌on‌, ‌I‌ ‌tried‌ to be‌ ‌more‌ ‌selfless,‌ ‌grateful,‌ ‌and‌ ‌compassionate,‌ ‌like‌ ‌my‌ ‌mom.‌ ‌We‌ ‌kept‌ ‌going‌ ‌to‌ ‌that‌ ‌restaurant‌ ‌until‌ ‌we‌ ‌moved‌,‌ ‌and‌ ‌whenever‌ ‌we‌ ‌saw‌ ‌that‌ ‌homeless‌ ‌guy‌ ‌we‌ ‌bought‌ ‌him‌ ‌a‌ ‌plate‌ ‌of‌ ‌food.‌ ‌Over‌ ‌my‌ ‌life‌ ‌I've‌ ‌gotten‌ ‌many‌ ‌great‌ ‌gifts,‌ ‌but‌ ‌they‌ ‌don't‌ ‌compare‌ ‌to‌ ‌the‌ ‌joy‌ ‌helping‌ ‌that‌ poor‌ ‌man‌ ‌brought‌ ‌me.‌ ‌The‌ ‌ability‌ ‌of‌ ‌helping‌ ‌others‌ ‌is‌ ‌the‌ ‌best‌ ‌gift‌ ‌you‌ ‌can‌ ‌ever‌ ‌receive, ‌and‌ ‌it‌ ‌is‌ ‌something‌ ‌you‌ ‌should‌ ‌always‌ ‌be‌ ‌thankful‌ ‌for.‌ ‌ ‌
Originally published as HeroicStories #896 on June 18, 2021

Podcast: Play in new window | Download (Duration: 3:07 — 2.5MB)