by Denise Miller
Kalamazoo, Michigan, USA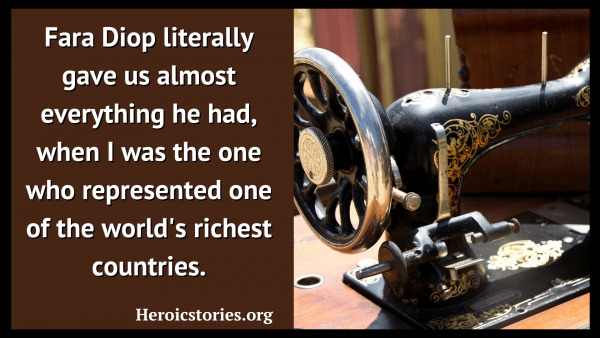 In 1989, I returned to Dakar, Senegal, as a senior in college; I had spent my junior year abroad there. My purpose was two-fold: to complete a senior individualized project for my alma mater, Kalamazoo College, on female Muslim marabouts (religious leaders), and to reunite with my Senegalese boyfriend. By the end of the term, my finances were depleted, having spent a great deal of money on required physicals and a visa application for my boyfriend, whom I had married while in Dakar. We planned to return to the US together. I remember walking out of the US Embassy with the equivalent of three dollars to my name, wondering how I was going to manage for the time remaining.
The next thing we knew, Badou's older brother, Fara, who was a tailor, had sold his sewing machine — his means of production! — in order for me to complete my senior project and to give us money to see us through the remaining weeks. In a land wracked by poverty and unemployment, his gesture was a wonderful and genuine example of the sense of generosity, community, and hospitality that is synonymous with Senegalese people.
To this day, as I think of all the ways that people have helped me throughout the years, having the opportunity to help others makes me very happy.
Although I have always enjoyed helping others, that day I truly learned a lesson in humility and generosity. Fara Diop literally gave us almost everything he had, when I was the one who represented one of the world's richest countries. I would rather have the richness of a life filled with good friends and helping hands than all the riches money can buy.

Podcast: Play in new window | Download (Duration: 3:01 — 2.4MB)