by Shiuan Liu
Taipei, Taiwan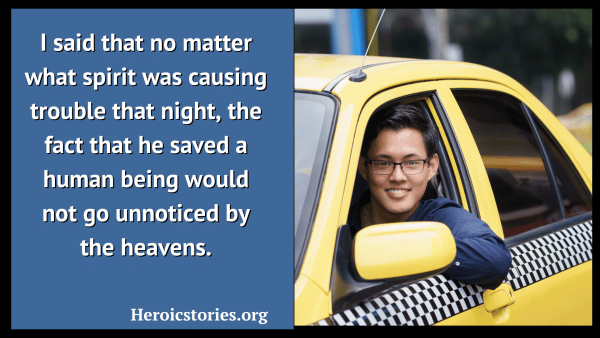 Residents in Taipei say that it is always rush hour in the city. Cars chase about day and night on a constant race in every direction. Taxi drivers are road warriors, known for their aggressive driving skills, impatience, and cynicism.
I took Mr. Wong's taxi one day after attending a research conference. "You so dressed up, what do you do?" he asked. I answered that I was a graduate student in psychology. "Ah!" he said. "People need psychology." And he told me a story.
A few nights before, Mr. Wong had seen a girl standing alone on a street corner. As their eyes briefly met, she reached out to hail his cab. She was not older than 20, pretty in a melancholy way. It was 5:30 in the morning, the sun was rising, and she asked him to take her to the nearest oceanside. She seemed distracted and tired, so he turned up the radio.
They arrived at a rocky beach on the outskirts of Taipei. The girl paid her fare and got out. As Mr. Wong drove away, something about the girl unsettled him, something fatalistic about the way she walked onto that windy beach alone. At the last moment, he spun the car around and went back.
When he finally saw her, she was barely a dot in the choppy water. The surf was dangerous, but he managed to swim out and drag her back. Once ashore, the girl threw herself on some rocks and started weeping. Mr. Wong sat cold and dripping next to her until she was calmer, then took her to a hospital. She didn't tell her story, and Mr. Wong didn't want to pry. He works in a city full of stories, he said. It wasn't his business to know.
"So you think the girl needs psychology?" I asked, using his expression. "No," he replied, "I need psychology!"
When Mr. Wong told his co-workers about the incident, some of the older drivers called in over the CB radio to berate him. The girl may have been under a spell, they said. She may have been lured to the water by a drowned spirit, and by saving the girl he had broken the spell and would bring on the wrath of the vengeful ghost! Mr. Wong became very worried. He went to the temple and burned incense for his safety, but has had a hard time sleeping. He asked me whether I thought he needed help.
I wanted to tell Mr. Wong that he shouldn't worry, that he shouldn't be affected by superstition, and that all too often people use logical or even mystical excuses for not helping someone in need. But Mr. Wong is a man of beliefs, not theories.
So in the end, I said that no matter what spirit was causing trouble that night, the fact that he saved a human being would not go unnoticed by the heavens. Mr. Wong nodded quietly, and I'm sure that deep down, he believed that too.

Podcast: Play in new window | Download (Duration: 4:15 — 3.4MB)
Originally published as HeroicStories #601 on March 18, 2005