by Lauri Goff
Oklahoma, USA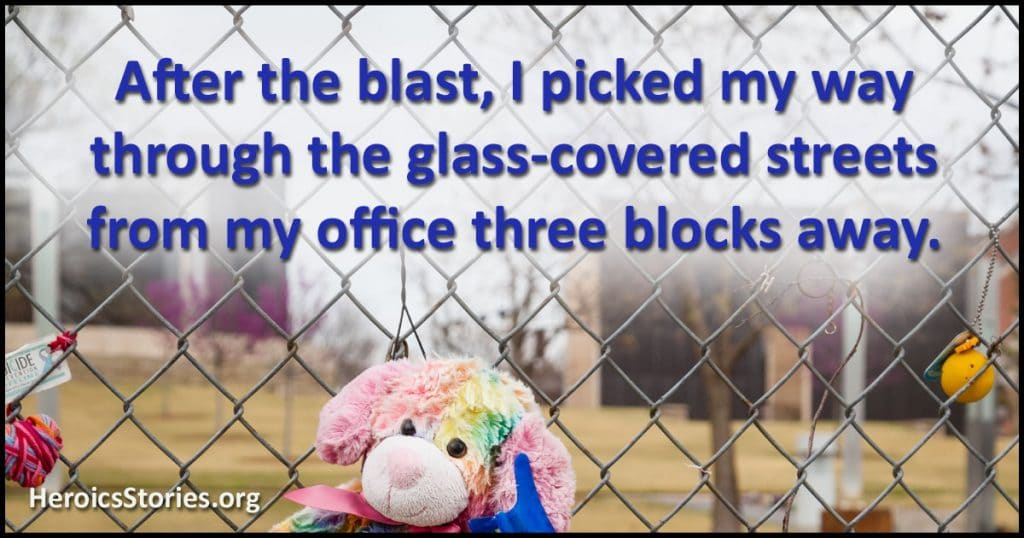 April 19, 1995, will be indelibly printed on my mind. On that day the lives of 168 people were lost when a bomb destroyed the Alfred P. Murrah federal building in downtown Oklahoma City.
After the blast, I picked my way through the glass-covered streets from my office three blocks away. My mother lived across from the Murrah building and the phones were not working. As I reached her high-rise apartment building, I saw pieces of vehicles in front and on the second level overhang. A policeman already blocked the entrance. My mom is in there I pleaded. He shook his head, "sorry, no admittance to anyone." Sir, I must get to my mom. She's ill and confused. Please! He did finally let me in to the lobby area, admonishing me to "hurry and get out".
As the mostly elderly residents filled the small lobby, I had a hard time finding mom. At last I spotted her, sitting on the couch, with her cane and a bag of her medicines clutched in her gnarled hands. "Get me out of here, Lauri," she begged. I told her to come with me and we would get outside where a friend waited.
By this time, there was no way a car could have been driven within three blocks of the carnage. I knew that with mom's arthritis, she could not walk even a block. My friend Susan agreed she would go to the parking lot near the office and bring my car to an alley not far away. My job was to get mom to the alley.
We made our way through the rubble and crowds. Just west of the Murrah building was a parking lot filled with utility trucks. As we walked to that area to wait for Susan, an employee from Oklahoma Natural Gas Company offered us his truck for mom to sit in.
Shaken, bruised and bleeding slightly from the shards of glass which had swept her apartment, mom sat in the truck and gratefully sipped the water provided to her by the gas man. All of a sudden, a huge roar of voices swept by the parking lot! It was thought then that another bomb had been found! Rescuers, firemen, police officers and medical personnel raced frantically away from the building. All of the utility people gathered in the lot also started to run. John, the man who had loaned us his front seat to sit in, took in the situation at a glance. He then proceeded to pick my mother up on his back and run two blocks away from the area.
Just at that time, Susan appeared with the car. John carried mother to the car and helped her into the back seat.
There were countless heroes that day, both sung and unsung. But John the utility man — and my friend Susan, who was there when I needed her despite the possible danger — were mine that dismal April morning.

Podcast: Play in new window | Download (Duration: 4:20 — 2.1MB)