by Myke Merrill
Hilton, New York, USA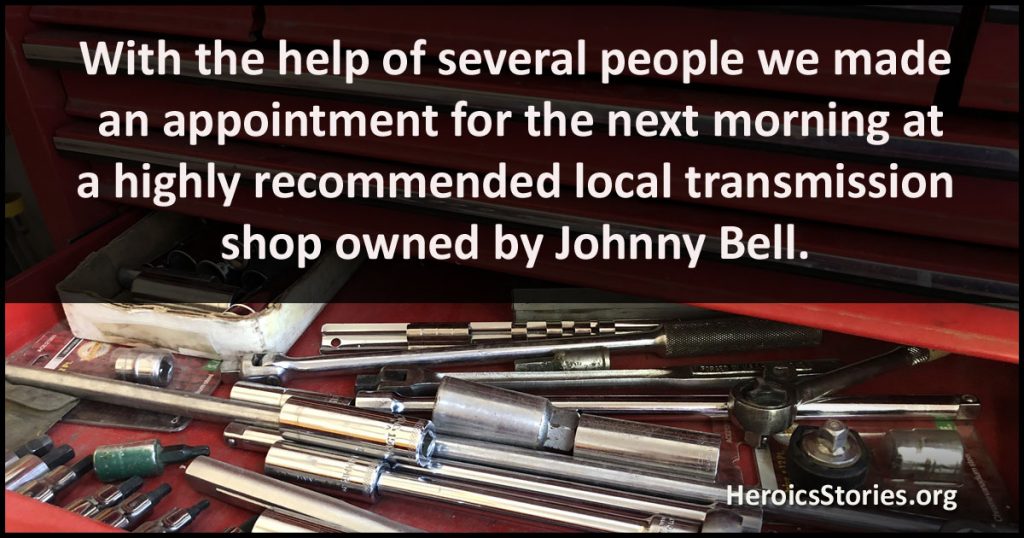 This past winter my family decided to take a quick vacation from western New York to Florida. We left during the holidays after a family dinner, and headed southward in our van through the cold and snow. We were cruising along in rural South Carolina when suddenly I felt … nothing! We had lost our transmission in an instant and limped to the next exit in second gear. I asked a bread delivery man if he knew anyplace that could help us and he recommended we try Orangeburg, 20 miles away.
The local dealer could not help us for several days and said the work would cost $2400. While there we spoke with a couple who had also broken down on the road, but they had solved their problem by trading in their car on a new one. The husband commented that their car, normally traded every two years, was overdue for trading in. They had saved over $3000 by having to trade with this particular dealer during this specific week. He opened his wallet and gave us several hundred dollars to help with our crisis. He refused to take it back, saying they wanted to simply pass it forward.
With the help of several people we made an appointment for the next morning at a highly recommended local transmission shop owned by Johnny Bell. We could only check into a local motel, then go out for dinner and shopping in the mall. A local person directed us to the Festival of Lights in an Orangeburg park for some free beautiful sightseeing. The motel gave us a half-price rate. A car rental place gave us their weekly rate for just one day for a full-size van instead of a car. Even the manager at a nearby restaurant gave us a coupon for lunch that would cover all seven of us at a discount.
Mr. Bell met me first thing in the morning, and put two of his men to work on our van for the day. They bumped us ahead of the other local work, since, as he said, people there would certainly understand travelers needing a break. Our van was done, costing less than $1400, by 4:15 that afternoon. We made it to Florida by midnight! We were only delayed about 24 hours by a complete transmission failure in the middle of nowhere, with no options and no knowledge of reputable service people.
A chance bread delivery man, a traveling couple with their own problems, a transmission shop owner who would never see us again, plus another dozen Orangeburg people — all were excessively honest, caring, compassionate and generous. I am immensely proud to know such people exist in these times. Whenever I encounter someone else in their own tough situation, I only hope I can pass it forward as well.
Originally published as HeroicStories #229 on Aug 27, 2001

Podcast: Play in new window | Download (Duration: 4:06 — 1.9MB)