by Bonnie Buttron
Illinois, USA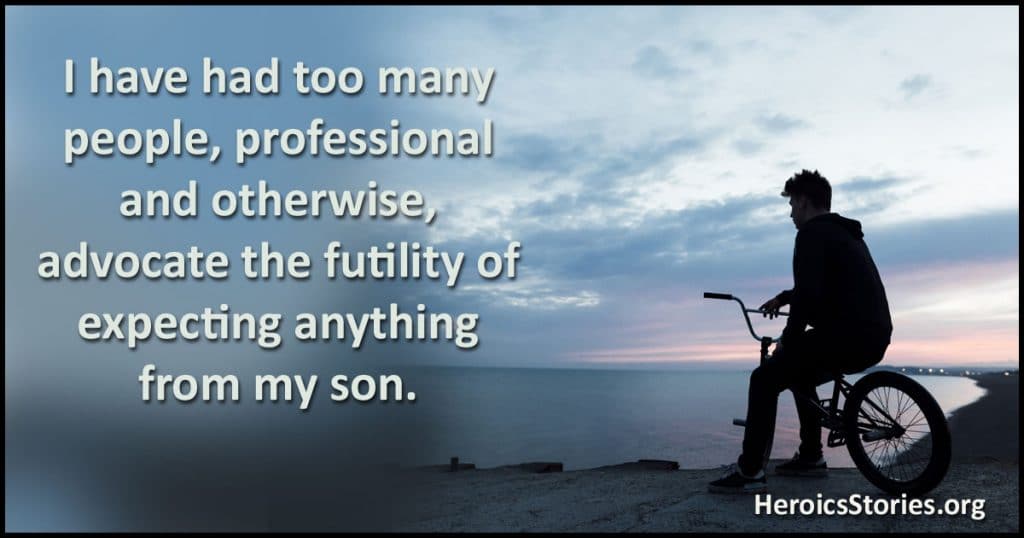 I work for a sub contractor at a job site in Illinois. Because several of us have done exemplary work, each time the contract was up for renewal the job site management always requested that we stay. Thus, I have had the opportunity to become acquainted with the employees. I have worked on this job site for over thirteen years, always part time.
One day while at work in the summer of 2008, my mind was in despair as to how I was going to handle the many problems associated with my son's illness. He has schizophrenia. He had stopped taking his medication and his symptoms intensified. His behavior became more erratic, and his and my frustrations were accelerating.
My mind was seesawing back and forth with thoughts. I should be home. How am I going to convince him he needs to take this medication? What is he doing in my absence? What am I going to find at home? I need this job in order to make ends meet. How do other people manage in the same situation?
Then there were worries about overcoming the stigma attached to this illness. And angry thoughts, as all attempts to receive help have been stymied by bureaucrats, with mental health funding slashed by politicians. What am I going to do in the future for myself and for him? What's going to happen to him after I'm gone?
I'm 63, have major heart muscle death from a heart attack, two cervical discs herniated, and severe osteoarthritis throughout my whole body. My symptoms were severe that day: the spinal cord arthritis was causing muscle spasms in my hand, charley horses in my calves and an excruciating headache. In general, I was starting to decline into a depressed mood.
Linda, an employee who had confided in me about her Crohn's disease and the fact her daughter was enrolled in college and was finding it difficult to adjust, stopped by to say goodnight. I asked her how she was, and how her daughter was.
She said that she was feeling better, and her daughter was doing fine. She asked about my son. All she knew about my son was that he suffers from organic brain syndrome. I told her he was not doing so well.
Linda replied, "Trust him but most of all just love him," and she left.
Those words resounded in my whole being. I do love my son, but on this day I let my fears and frustrations overshadow this fact. Most of all, the words "trust him" really struck home. I had allowed his illness to deflect me from his basic nature and personality. I started remembering all the issues he has, yet he still works at overcoming them.
I have had too many people, professional and otherwise, advocate the futility of expecting anything from my son. Linda saved me spiritually, emotionally and mentally. I keep her words ever-present in my thoughts.
Originally published as HeroicStories #769 on June 18, 2009

Podcast: Play in new window | Download (Duration: 4:25 — 5.4MB)