By Anonymous
California, USA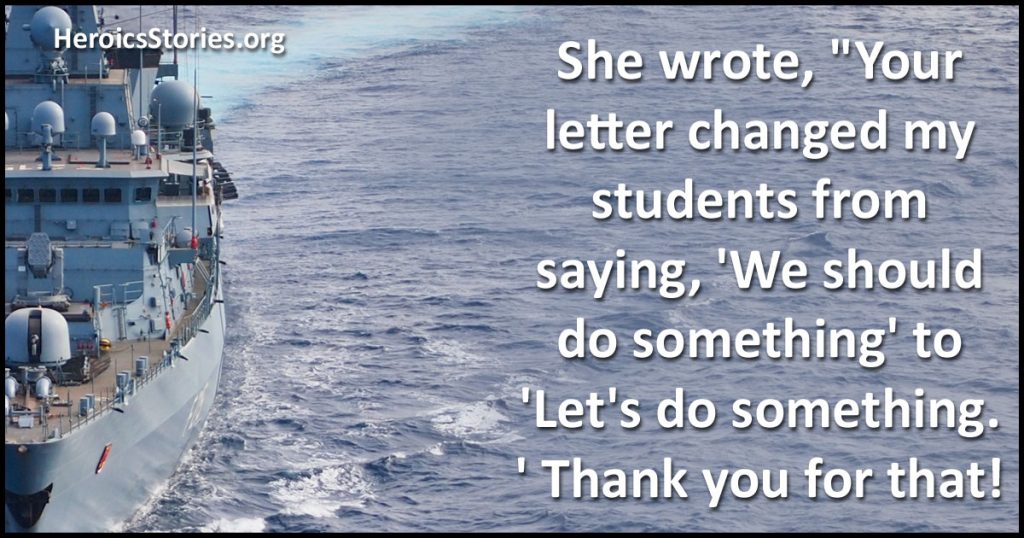 The year my friend Steve turned 40, he had a heart attack, lost his job, was told he couldn't work by the Veterans Administration, and felt deserted by many friends. He was so depressed he felt like his life might already be over.
One day Steve showed me an article in our newspaper about a small town in Texas. A schoolteacher there had taken her class on a field trip to tour the Battleship Texas near Baytown. They saw the deplorable shape the ship was in and wanted to do something about it.
The teacher remembered how the battleship had been brought home to Texas by young Texans collecting nickels after World War II. She approached the principal about starting a campaign to help restore the ship, called "Give Two Bits for Texas."
Steve was moved. He remembered that when he was growing up in a nearby small Texas town, his grandpa and grandma took him and his brother aboard the USS Texas. He wrote a letter to the teacher and her class telling of those happy memories, and asking if they would accept his "two bits" — 25 cents. He wrote, "I hope your campaign goes well. I hope you can save the USS Texas so you can take your kids and grandkids to visit her, like mine took me." He enclosed a quarter and put the letter in the mail.
Soon Steve got a letter from the teacher. His letter had touched her, for she too had grown up in the area and seen the Texas with her grandparents. She wrote, "Your letter changed my students from saying, 'We should do something' to 'Let's do something.' Thank you for that!" Next, the Texas County School Board wrote to tell him the campaign was in full swing and the quarters were pouring in. The kids' "Two Bits" campaign publicized the condition of the Texas and raised more than $20,000 in donations.
A few weeks later one student wrote her own letter to Steve. She said that they were going to have a ceremony aboard the Texas to present the money to naval officials, and she would speak there. She would tell them, "Steven Emery of California wrote to us, 'I hope you save her so you can show her to your kids and grandkids.' Simply put, that is why we want to save her."
It was wonderful to see the effect of all this on Steve. Because the teacher, students and School Board took the time to acknowledge Steven's inspiring letter, he got a new lease on life. Steve hopes those kids all have kids and grandkids of their own — so they can show them the Battleship Texas which they helped save.
And when the rest of us tour the USS Texas with our families, we can remember Steve, whose "two bits" started the campaign that saved her — and the teacher and kids whose thank-you notes saved Steve.
Originally published as HeroicStories #300 on April 29, 2002

Podcast: Play in new window | Download (Duration: 4:08 — 2.0MB)