by Jutta Zapf-Atkinson
Queensland, Australia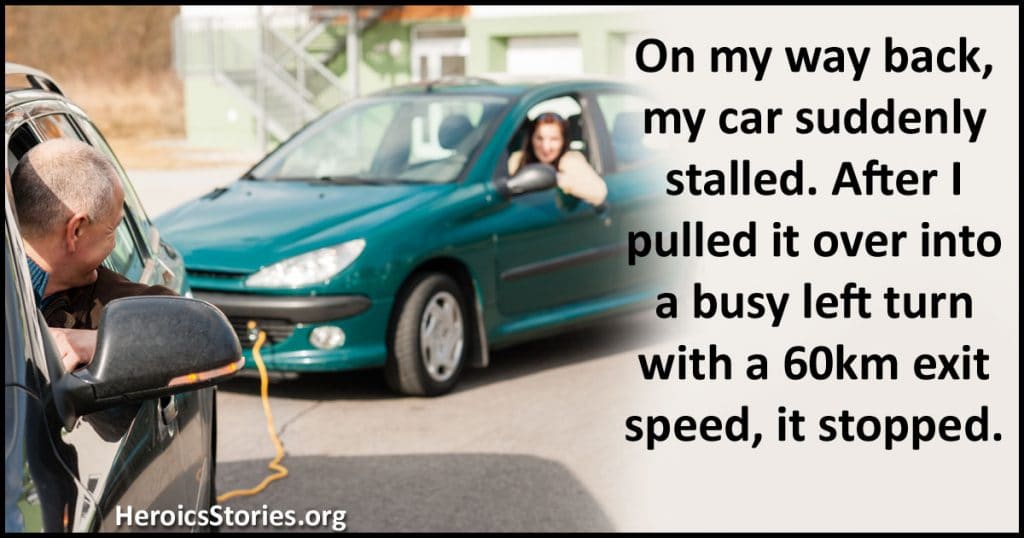 As a disability support worker in a respite center, I was working throughout the Easter holiday in the spring of 2004. We had a fantastic Easter weekend with all our clients. On Monday we were left with one client, a young girl in a wheelchair.
A colleague and I decided to give her a treat and let her decide what she wanted for dinner. Her face lit up when we said we would get ice cream with strawberry topping, her favorite. This meant I had to visit two nearby fast food chains. I started my car to get some chicken meals at one, and then to get ice creams at another. The client and the other carer waited at the center while I drove to the shops.
On my way back, my car suddenly stalled. After I pulled it over into a busy left turn with a 60km exit speed, it stopped. Here I was, on the busiest time of the day, standing in a turn that is known for cars "flying around the corner". I tried to start my car again and again, but nothing happened. I felt helpless and a bit worried about being hit. Worse, it was getting dark.
The turning traffic slowed down so the cars could pass me on a dirt track beside the road. I rang my husband and asked him to come and help. I also rang the road service, but they told me it would take quite a while until they could send someone.
Suddenly, a car stopped beside me on the dirt track and a woman asked if she could help. She said she would go home, get her husband, and push the car off the road. Quite a few other people stopped and offered to help, but the next minute, she came back with her husband. They helped me push the car to a safer spot and opened the bonnet to find a reason for the sudden breakdown.
Then the woman offered to take me to my work to bring the food, especially the ice cream, to the respite center. I left my car key with her husband. As we drove away, my husband arrived.
We delivered the food to the respite center and returned to my car. Our husbands had the car running again, so I could at least drive back to work. I thanked them from the bottom of my heart for helping on a busy Easter Monday holiday, when everyone else wanted to get home and have a rest before the week started again.
It meant so much that she drove me to the respite center before the ice cream was completely melted. Our client was thrilled with her special treat, and I was grateful for something just as sweet: help when I needed it most.
Originally published as HeroicStories #510 on May 3, 2004

Podcast: Play in new window | Download (Duration: 3:52 — 1.8MB)