By John Craggs
Hants, United Kingdom
It was about 2:00 a.m. and the six-volt lighting on my old motorbike and sidecar was barely coping with the cold, wet darkness. Then I nearly beat into the back of a Mini car parked — unlit — under a flyover bridge. My first reaction was 'Stupid Idiot!'. I was a 50,000-mile-a-year man back then (much of it at night) and I didn't suffer fools gladly.
A hundred yards up the road I suddenly felt the need to go back and check on the car. The next turning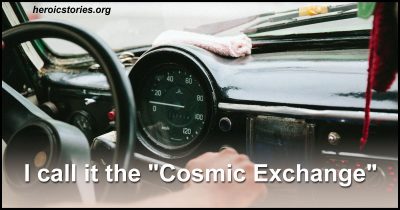 point in the dual carriageway was about two miles ahead, so I turned and rode back the wrong way. (With no other traffic it was safe, if technically illegal.)
A family of four and camping gear were tightly packed into the Mini. The Dad climbed out into my headlight beam. Apparently they had hit a deep puddle which flooded their electrics and carburetor, and the battery was too tired to work the lights without the engine running. Just a poorish early 80's family, returning from a holiday on a tight budget.
So there we were. A fairly self-sufficient biker with no car knowledge at all, but a sidecar full of tools. And a man who was undoubtedly a lovely Dad but admitted to being "totally useless with engines and stuff."
Situation impasse. Then along came another biker who turned out to be an Army Engineer — with an absolute minimal tool kit on his own bike.
He asked the Dad a few questions, then fell on my collection of tools like a kid in a sweet shop. He seized my large can of WD-40 water repellent, and sorted out their car in fifteen minutes flat. Dad looked terrified as the engineering chap deftly dismantled, dried, and reassembled bits of the car which Dad had never seen before.
The engineer shrugged off thanks and roared off to avoid a late return to camp. Dad was going about 20 miles beyond my normal turnoff, but wasn't too sure of his route. I offered to shepherd him part-way, and took him within about 10 miles, where I flagged him down to check if he now recognized the road. Off he went, children waving, and horn beeping. I finally got home about an hour before I needed to start work.
I call it the "Cosmic Exchange". I pay in when I can by helping others, and always, when I have problems beyond my own ability to solve, someone turns up to help.
This night was particularly memorable because the engineer said he wouldn't have stopped if he hadn't been curious about my motorbike and sidecar. From the outside lane and "really shifting" he probably would not have even seen the Mini tucked away under the bridge. And I didn't know enough to be much help on my own.
Despite the lousy weather the Cosmic Exchange was firing on all cylinders that night, and six people felt better for it.
Originally published as HeroicStories #304 on May 13, 2002

Podcast: Play in new window | Download (Duration: 4:24 — 2.1MB)