by Maddy Jonas
New York, USA
In June of 1993 I had just graduated from Towson State University, outside of Baltimore, Maryland. I got a job waiting tables at a restaurant near the college. Money was tight and the only place I could afford to live was a local motel that rented rooms by the month.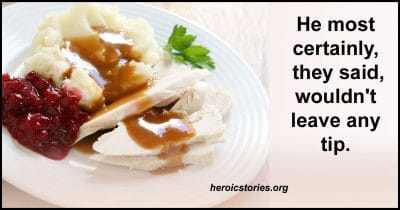 To keep costs down, I ordered the daily special at work — whatever it was. The $5 price tag was discounted 50 percent for employees. I ate
half for lunch and saved half for dinner.
Evenings were busy with the dinner crowd and summer school students looking for cheap drinks and free munchies. Being the new kid, I got the lunch shift. The lunch shift "crowd" was very slow — almost non-existent.
One very hot afternoon a man wearing a long dirty coat came in. His hair was scraggly and he apparently hadn't shaved in weeks. No one wanted him at their station so I said I'd serve him. Very quietly, so I strained to hear him, he politely asked for a cup of coffee and the $5 lunch special. I figured that $6 bill was a lot of money to him — it was certainly a lot of money to me.
As I placed his order in the kitchen, my colleagues told me not to waste time with him. He'd probably skip out on his bill. He most certainly, they said, wouldn't leave any tip. I tried to remember that he was a customer like everyone else, and checked on him as I would any other customer.
He sat quietly. Unlike other customers dinning alone, he had nothing to read. He just stared at his coffee or off into the distance, perhaps remembering a better time. He ate his food slowly and deliberately, savoring each bite in his mouth.
The meal was probably more than just sustenance to him. It offered a quiet and cool place to sit and relax, even if for a brief moment.
When his plate was empty, I stopped by to refill his coffee and drop off his check. There's no rush, I told him. It wasn't like I had people lining up for his table, why make him leave?
I took a ladies room break. Upon returning, my customer was gone. The others laughed, reminding me they'd warned me of being stiffed. I silently went over to clean off the table, leaving the check holder for last. When I lifted it, change came tumbling out.
The $6 bill had been paid in full with well-worn and crumpled bills. I sat to count the coins — $1.20 entirely in nickels and pennies. It was worth so much more to me. As I stared down at the change in front of me, I realized that through quite probably a great sacrifice, my customer had taught me an invaluable lesson.
We make an impact on every life we interact with. It is our choice as to what kind of impact we want to make.
Originally published as HeroicStories #806 on Aug 3, 2010

Podcast: Play in new window | Download (Duration: 4:24 — 2.1MB)