by Susan L. Miller
California, USA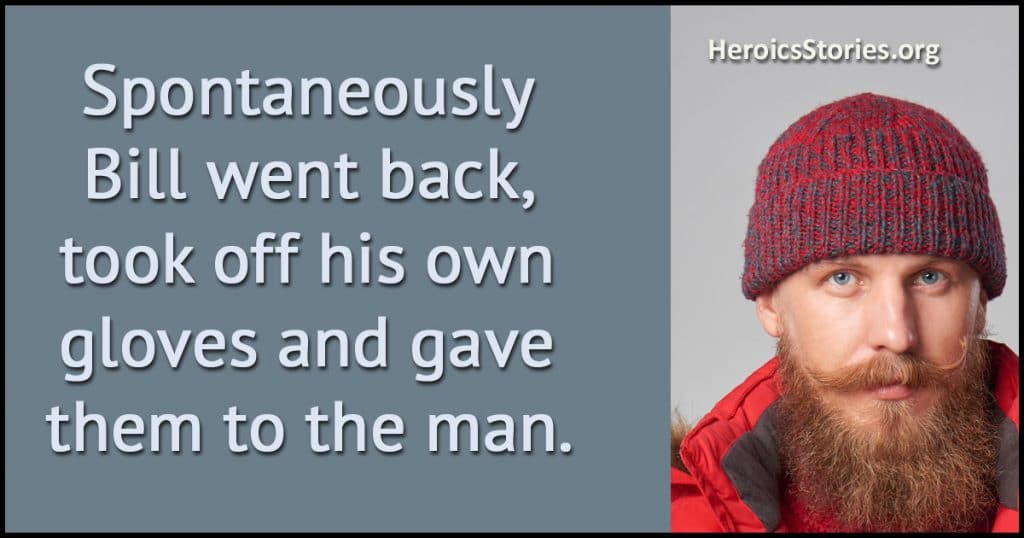 In 1994, on a cold, foggy winter day in San Francisco, California, my friend Bill was strolling down the street, chatting with his wife, Nina. He noticed a homeless man sitting on the sidewalk, rubbing his hands together to keep warm. Bill walked on another block or so, but something was nagging at him.
Spontaneously Bill went back, took off his own gloves and gave them to the man. The look of pure astonishment and gratitude that Bill received in return inspired him, and he determined to do more.
The next day he went to a store, bought all their gloves, and walked the streets giving them out to other homeless people. Then he began turning this simple gesture into a non-profit organization called "Warm Wishes".
In early December, 2002, I was with 300 volunteers who met at Unity of Marin Church in the San Francisco Bay area. Warm Wishes brought together all kinds of people, aged 3 to 80, in a great spirit of joy and service. We filled each of 5,000 sturdy waist packs with warm thermal socks, ski gloves, a knit hat, and a rain poncho. The final touch was a holiday card hand-made by an elementary school student. We packed over 33,000 items in 90 minutes!
We created special packs created for women and children who are in homeless shelters, and for police officers, fire truck and EMT drivers. In eight years, Warm Wishes has helped over 20,000 people stay warmer and dryer throughout the winter months.
After the packing, the real heart of the Warm Wishes project begins. Groups of two to four people take the bags to the streets, and distribute them to homeless citizens. Bill stresses that we should give out one bag at a time, and really look at and connect with each recipient.
I carry a few bags in my car to hand out when I see someone on the street in need. The first time I approached a homeless man, sitting alone in a park with all his belongings in a shopping cart I was scared. Since it was daylight and other people were around, I decided it was safe. I walked up and handed him the pack, saying I hoped he would accept this gift.
His gaze, which had been glassy and unfocused, sharpened. Then he looked right at me and said, "Warm Wishes! I've been hearing about you folks — God bless you!" I went back to my car and cried for ten minutes. Clearly, I had received more than I had given.
Other people who have discovered Warm Wishes have become excited and created chapters in Colorado and New York City. I would say thanks to my friend Bill for creating this organization that has inspired me so much. But I know what "thanks" Bill would prefer. If you were touched by this story, please connect with Warm Wishes, and join Bill in helping people in need.
EDITOR'S NOTE: The author recommends: http://www.WarmWishes.org
Originally published as HeroicStories #444 on Sept 15, 2003

Podcast: Play in new window | Download (Duration: 4:34 — 3.7MB)