By Garfield "Chuck" Chatman
Spokane, Washington, USA
After difficult separation from my wife, I decided to go back to Spokane, Washington, where I had been stationed in the Air Force, since I had loved it there. I was living in South Carolina, and left with a shoestring budget. So many things went wrong on the 4,000-mile trip that I often I thought that I wouldn't make it.
I was driving through Utah outside Salt Lake City. I am an African American and my car broke down unfortunately near a prison, on a weekend. With little money to get the parts I needed in a small town on the Sabbath, I walked to a gas station right off the highway and found out that the part I needed was a dealer item, and every dealership was closed until Monday.
I walked back to my car and tried some temporary methods to fix it so I could at least make it to Salt Lake City, about 20 miles away, and failed. I was on a interstate highway and the likelihood that someone would stop for me, a black man, was slim. Especially since there were signs declaring "Do not pick up hitchhikers" because of the close proximity of the prison.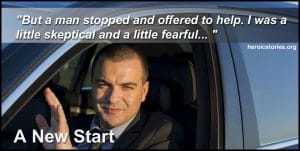 But a man stopped and offered to help. I was a little skeptical and a little fearful, but I really didn't have much of a choice. This gentleman took me around to several salvage yards in search of the needed part. We finally found one, returned to the car and found that it would work, but I needed a nut and bolt, so he took me to a hardware store. He then offered to follow me as far as Salt Lake City to be sure I would make it at least that far, but the repair held until I reached Spokane.
All of this took the better part of five or six hours, but he took the time out of his day to assist me. I offered to buy him lunch or pay him gas money. No. I asked if I could I get his name and address so that when I got to Spokane and get on my feet I would send him some money, but he refused that, too, saying that if I made it to where I was going it was thanks enough.
I have never forgotten his selflessness, and I try to help others as he helped me. If he hadn't stopped who knows where I would have ended up, maybe a resident of Utah instead of Washington state as I planned, or homeless, or worse. He changed my life, yet wanted no thanks.
I have lived a life of trying to do the same ever since. Race didn't matter. He just saw someone who needed help. I don't even know his name, but he changed my outlook on life. It's the first thing on my mind when I hesitate to help someone.

Podcast: Play in new window | Download (Duration: 4:04 — 5.7MB)
Audio Credits:
Narration: Dwuan Watson
"gitteWalksOnMetal" by mugwood via freesound.org
"Mercedes_180D_636_engine_failure.wav" by hantorio via freesound.org
"1983 Volvo 245 starter engagement failure + successful start" by nissse via freesound.org
Music: "John Stockton Slow Drag" by Chris Zabriskie via freemusicarchive.org