Geri Winters
California
After a recent business trip, I was returning home to Northern California. Since I live a four-hour drive from the San Francisco airport, I had left my car at the airport parking garage for the return trip.
When I got to my car, I discovered the battery was dead. I was a little annoyed by the delay, but someone from the airport parking authority came right away to jump-start my car, and I was on my way.
I got on Highway 280 and headed north to San Francisco. Just after exiting on Highway 1, the heavy traffic slowed to a brief stop, and my car died. I was in the middle lane with no power in the car: no flashers, no lights, no starter. I was on a flat spot of the road, and could not get the car rolling. I was completely stuck, with heavy traffic all around me.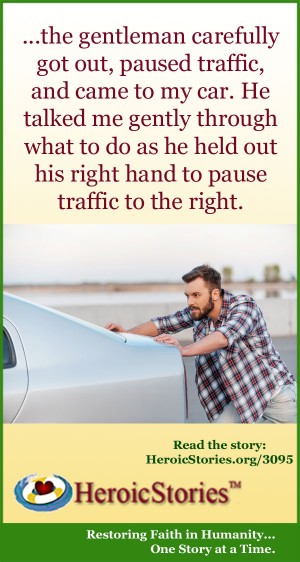 I called 911, and a kind woman in dispatch took my information and forwarded it to the San Francisco police department. Meanwhile, people all around me were shouting and honking, but there was nothing I could do. I was feeling pretty miserable, and I was afraid I might be hit by a car trying to go around.
Then a nice gentleman in a car on my left asked if I wanted help pushing the car. I replied that I thought it was probably too dangerous with the traffic. His companion pulled off the road and the gentleman carefully got out, paused traffic, and came to my car. He talked me gently through what to do as he held out his right hand to pause traffic to the right.
People actually stopped and let us in!
The next lane over was an exit to another road, and again, a firm hand gesture stopped traffic to let us through. He pushed me past the exit to the right shoulder, and said, "Awhile back my car died on the Sacramento Bridge in heavy traffic. There was nothing I could do but wait for help. For two and half hours, I was the most hated man in the world. So I had to stop to help you."
I thanked him very much and watched as he paused each lane of traffic, got back safely to his car, and proceeded on his way.
I called for roadside assistance, and the lady in dispatch got a tow truck to me in just 10 minutes. While my car was being loaded on the truck, a couple of policeman drove by and made sure everything was OK.
The tow truck driver took me to his favorite shop nearby in Daly City. This was a neighborhood shop, with people of all ages getting things done to their car. There were young people and grannies, and everyone knew everyone. They made me feel like family, got my car fixed, and got me on the road.
As I drove home, I thought with gratitude of the many gifts of kindness I had been granted that day, and resolved to extend that kindness to others.
Originally published as HeroicStories #868