by Byron Thorson
Hammond, Louisiana, USA
I was 23 and had just started a new job in a large, Midwestern city a little before Thanksgiving. At the time, I am sorry to say, I had a serious attitude problem toward many things, including old people and people who rode the bus. However, since I didn't have a car I had to take the crowded bus myself. One day after work a little old lady boarded carrying a huge shopping bag. Nobody offered her a seat except me.
Two months later an ice storm hit. After work on my way to the bus stop I slipped on some ice and badly twisted my ankle and knee. My intense pain was evident but nobody offered me a seat. Nobody, that is, except that same old lady. This time she didn't have a shopping bag, just a wooden cane. I was extremely grateful — there was no way I could have stayed on my feet for the 30 minute ride home.
When my stop came she gave me her cane and got off the bus with me. I was shocked! This ancient woman helped me get to my apartment and asked for first aid supplies. While she was bustling around she told me her friends called her Miss Gladys and that she was 93 years old. She told me she had been a Registered Nurse and that my ankle was sprained while my knee had possible ligament and cartilage damage.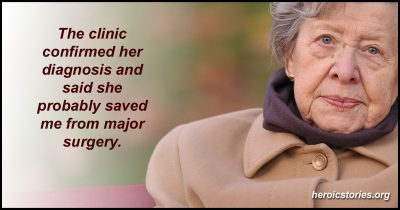 While waiting for a friend to take me to the clinic, she and I sat around and ate cookies, drank soft drinks, and talked. She was bright, funny, and energetic, and I honestly had not thought old people could be that way. When my friend arrived, I still had her cane in my hands. I handed it back to her but she said, "You keep it. I have more." The clinic confirmed her diagnosis and said she probably saved me from major surgery.
Miss Gladys devoted her life to helping others and there is no telling how many people she helped in her lifetime. I later learned she passed away in her sleep three weeks after she helped me. As far as I can tell I was the last person she ever helped. That was over 20 years ago and now at times — when my knee bothers me — I still use that cane. Whenever I do I feel more alive and confident, like I can take on the world even with a bum knee.
I wish I could see Miss Gladys and thank her from the bottom of my heart for shattering the wall I had built around myself, for showing me that no one person is any better or worse than anybody else, no matter how old they are. I would also tell her that I, too, now like to help others. Perhaps that cane was meant to be passed on. It was already pretty old when I got it. Perhaps that is what I'm going to do.
Originally published as HeroicStories #191 on Dec 29, 2000

Podcast: Play in new window | Download (Duration: 4:07 — 3.8MB)