by Diana Darby
Tennessee, USA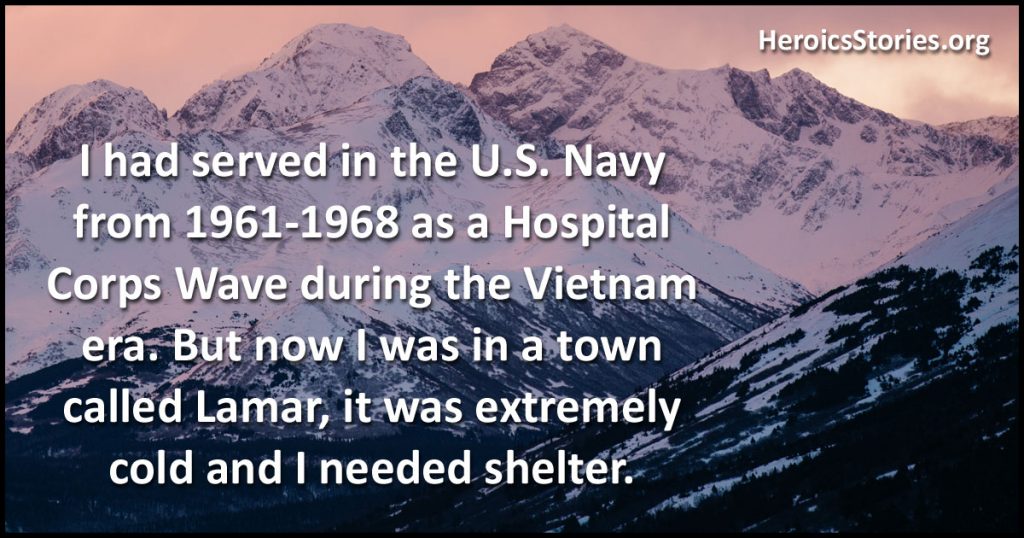 It was dead winter on the plains of Colorado. The temperature was dropping. My body was fighting unforgotten times which had not been the best. I was a homeless female veteran. The roads got long and the shelter space was limited.
My years of homelessness were brutally depressing and my self-esteem was gone, yet each day I tried to make life better. I had served in the U.S. Navy from 1961-1968 as a Hospital Corps Wave during the Vietnam era. But now I was in a town called Lamar, it was extremely cold and I needed shelter.
At the shelter I found, the middle-aged lady and her husband gave me a bed to rest in. They said I could stay as long as I needed. In exchange, I helped with the work of running the shelter. My cooking wasn't the best but we served a variety of food to 12 to 15 people at each meal. The folks always cleaned their plates so dish washing wasn't a problem. I enjoyed the household chores.
Some of the homeless folks had pets. One dog had a little backpack strapped on his back. His master fed him every meal before he ate himself. His acts of love for his companion were profound to see.
The husband was a former Vietnam Veteran. He was quiet; the war had left him aloof with his thoughts. He helped the homeless with all their needs, relating well with homeless veterans. He and I made small conversation while I cooked and cleaned for the men, women and children.
His wife was disabled and spent most of her time in a wheelchair. She was quiet, did most of the paperwork for the shelter and read her bible to the children with her kind voice.
She and her husband had also been homeless when they came to this area. They had been homeless 11 years when they arrived in Colorado. They had lived in their car and worked hard to research local politics for federal grants to build this shelter.
It was 1992, the economy was growing and the local businessmen and cattle ranches helped them construct a shelter with 12 beds. Food came from local church groups. People volunteered their time to donate items needed, although we were always short of blankets and milk.
One day the lady and her husband called me to their office, saying they had a surprise for me. I had no idea what it was. They had made arrangements with a local used car dealer so I could have a vehicle to go on with my life — no payments involved. I cried, overwhelmed by their kindness.
That enabled me to work as a nurse in a nursing home in Colorado. These people touched my heart — no one has ever been that giving to me. That was 15 years ago, and I will always remember this couple for making me feel appreciated and giving me a new start.
Originally published as HeroicStories #578 on Dec 28, 2004

Podcast: Play in new window | Download (Duration: 4:08 — 2.0MB)