Welcome to the every-month-or-so review of recently published HeroicStories!
As you may or may not know, the "deal" with HeroicStories is that I run the website and publish the stories, while the founder – Randy Cassingham – handles publishing paperback books. Contrary to what appears to be a common misunderstanding, he's not involved in the day-to-day operations of HeroicStories, and hasn't been for over a decade. Just the book publishing side of things. :-).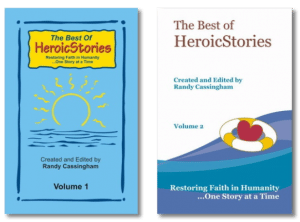 It turns out that Randy still has a few thousand(!) of the books published in 2001 and 2002, The Best of HeroicStories (volumes 1 and 2). They don't do anyone any good sitting in storage, so he decided to do an "inventory reduction sale" – blow them out a small shipping box-full at a time at a big discount – more than half off, with free USA shipping.
Why would anyone want a box-full? Well, with the holidays coming up, he thought, and I agree, that they'd make a great gift – and it helps get the word out about out efforts to keep HeroicStories rolling.
Get an early start on your holiday shopping, and help out HeroicStories at the same time.
The special is open through November 15, 2015, in the This is True shopping cart.
On to the last month's worth of stories…

"The time your father spends away from home, is the price he pays for service to others"
Kelly Boyd says: Wow, that is one I will print and save! Ali was and always will be a hero for me, for his courage in and out of the ring. Not a great moral example, sadly, but we all have our weaknesses. I am sure that photo will always be cherished and remembered as a moment when one human being cared enough to make a difference for a child.
Sen adds: Really he is a great sportsman with love and affection to his family as well as others.
Sometimes seeing the worse that can happen, can help a person stake the better path.
Annette N says: I am proud of the fact that you changed your life for the better. Not everyone learns from their mistakes. It was a blessing you found that deputy at that particular time. I am sure that all these years later, you are proud of yourself. Thank you for sharing your story.
A total party disaster turns into a lifelong memory of love.
William Riggs says: Usually I manage to maintain my composure as I read Heroic Stories. Not so this time. It is a VERY moving story – and there are several heroes in it, including the author, the daughter, the neighbor and the invitees. Excellent, excellent, excellent.
Rhonda Lea Fries adds: This lovely story that left me with an uneasy feeling about Stephanie, so I googled the author's name. He has a blog. He announced Stephanie's engagement in January of this year. Color me relieved.
When a handout is given with dignity it changes everything.
Grace says: I'm so glad this happened to you. While I was in uni, I was homeless and starving, so I know how hard it is on the body, mind, and spirit. I love the way this hero helped you out, the words he said, and how it is paid forward. I think I may be doing that myself now that I'm in a better place. $5 doesn't go far, but it does buy bread still. 🙂
Eliza Ting adds: To this day we still have good Samaritans around. I could almost imagine myself in this difficult situation wherein today I'd worry about the next day's meal and the next day worrying about the following day. One thing for sure is that we can never forget the day when a person helped us in that most needed time.
An invasion of bees turns into a very sweet day with a local hero.
Sharon says: I had a similar bee situation a few years ago. I was not about to have the bees exterminated, so a beekeeper was my only choice. Unfortunately, beekeepers don't work for free in Southern California. It cost me $250! I watched him work, up close, and I didn't get stung either.
Suzanne adds: How amazingly funny this article came today. I've just returned home from taking a friend of mine (El) to a local beekeeper's place (Deb). We bought some honey and Deb and I began telling El stories from over a year ago when I was able to eat honey. (A crazy diet forced me to abstain from this wonderful delicacy I'd grown to love.) About two years ago I'd discovered BVT (bee venom therapy) from Deb and requested treatments for a variety of ailments. Nervous at first (and relieved I wasn't allergic to bee stings) my first encounter was to see if these little martyrs could literally unlock muscles in my upper left shoulder which denied my head from turning very far to the left. Sidenote: Although I'd had several chiropractic adjustments, several water aerobics classes and even targeted massages I remained a "BLOCK" in that area of my body and in agony for 6 months prior to discovering BVT. I was desperate. Three stings was my first round and although the initial pain needed time to subside I could tell something was beginning to work by day 2. On day 3 I went back for more and things got even better. The following week on Monday I received another massage…muscles continued to get a little better from the previous week. The next day I got smart and returned for more BVT then immediately went to have a massage. She was able to manipulate the freshly inserted venom deep into my tissue and systems…even remarked that things were much more supple. About three weeks worth of this very specialized therapy along with massaging I could finally move my head pain free. I was also told the lady who came for BVT just before my session had MS and the only way she could move her fingers was through this procedure! She came weekly for them. Radical, but works…for the ones who get desperate enough to try it. (By the way, my massage specialist friend happens to be El…)
A young single mother buys a precious gift for her son.
Linda Hutchinson says: This was so uplifting for me! Last Christmas, I looked over my 5 teenage grandchildren for a view of what to buy them as gifts. They had/have so much. They like expensive brands and fancy clothes and jewellry. I cannot afford to keep up and didn't want to. Instead, I bought each family a goat for a family in an impoverished country.. I sent the kids the picture and a story. I was really worried that they would not like this but to their credit, every one was absolutely thrilled! I will do the same this year, against my adult kids' wishes. The grandkids see the good.
Laura adds: They call it "third world" but they do know investment better than we do. All I leave my kids is money and a house full of stuff they will argue over or sell. Rahim will have means of earning a living.


Be sure to share HeroicStories with a friend, leave your comments on the HeroicStories web site (people really, really appreciate seeing the discussion), and "like" HeroicStories out on Facebook (share those stories too!).
Thanks, as always, for being here.
Until next time,

Leo A. Notenboom
Publisher: https://heroicstories.org
Co-Conspirator to Make the World a Better Place