Spring is here, and with it, more light, more hope, and of course, more HeroicStories.
As I've probably said before, one of the reasons I became a supporter of HeroicStories "back in the day" when it was just starting out, and then took it on coming up on three(!) years ago, is my belief that our diet of primarily negative news is downright toxic. As individuals, we take on a distorted view of what people are really all about, and as a society, we make ill-informed choices that only serve to cement that toxicity.
I truly believe there is more good happening in the world than there is bad — bad just gets the headlines. When you think about it, it's extra-ordinary things that make the news. That means things that are normal, everyday occurrences — like people being good to one another — go unreported because they're so commonplace. They're not news.
We need to be reminded. That's what HeroicStories has always been about.
What impresses me about this month's collection of stories is its diversity. Be it returning a lost item or simply assisting a traveler in need, these stories are reminders of countless other similar instances that happen every day but go unreported.
They serve as inspiration.
Finally, as I was reminded by the powerful story The Power of One Note, I'd be remiss if I didn't express my deep, personal gratitude for your presence here, and for sharing HeroicStories with others who might benefit.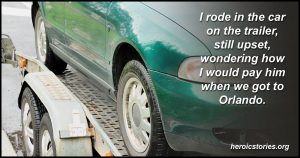 A tow truck driver saves a young family from an expensive breakdown.
Craig Brooke-Weiss says:
I'm a Realtor & this story is so helpful. I've been struggling with the decision of a client who's only financial asset is her condo that she originally entrusted me to sell but this week she told me because of her need to save every dime she's going to be using a discount brokerage.
Wendell lived with the knowledge that he was serving a higher purpose than just towing a family's car even if that was what he did for a living. I understand the fear & scarcity of my client & gave her my resources gladly to help her prepare her condo for sale. I am shifting my attitude as I was there when she needed & did the right thing. What my client did or does has little to do with me.
Wendell's actions are my inspiration today!
Shirley replies:
In my humble opinion you have the right attitude. You will do just fine in your life. Whenever I help someone, I never expect anything in return, then I'm never disappointed.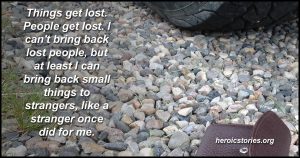 A young girl learns the value of bringing lost things back to people, and makes it a life practice.
Cheryl says:
What an awesome mission! You certainly fit my definition of heroic acts. Thanks for sharing your experience and how you responded to its lesson.
Jane Peranteau adds:
She's an angel of mercy, truly. Great inspirational story. I'll try to do the same.
Sidney Lichter says:
A few years ago I was contacted by someone I done business with. She and her husband had purchased something at an auction that referenced an organization I'm involved with; would I like the material? I called another–more senior–member and told him about the find. He told me to get it. The item that was found wa a nearly-complete photo-biography of a deceaded member's time in the army during World War 2. I offered to re-pay the people who had bought it, but they refused on the grounds that it was important to our organization; it was their pleasure to return the material to us.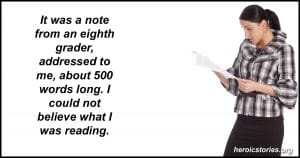 One kind note to a teacher lets her know she is making a difference in student's lives.
Yaakov Cohn says:
I urge this teacher to take the opportunity to let her student know how much her note meant to her.
Paul Schickler says:
I was also a teacher (now retired), and, like her, positive feedback was uncommon, because kids are kids. But I became Facebook friends with some of my former students who are old enough to have FB accounts. One day of them, reacting bitterly to the world situation, posted one day that you can't believe anything you learn in school. I replied (with a smiley face) that I hope she didn't mean EVERYTHING she learned.
Her reply brought tears to my eyes. I hope you (and she) won't mind me repeating it: "i would actually like to apologize for being the bad kid in class so many years ago….u was a great teacher surprisingly many of the things i learned in ur class im teaching my kids today….u inspired my love for writing when u told me to write my feelings down & start my first journal in 6th grade….for everything u've done….i wanna thank u for being such an awesome teacher"
Like "The Teacher" of your post, I always hoped I had an influence on my students, but with very little feedback, teaching remained an act of faith. This FB post made me realize that there must be many more of my students who felt similarly. It has redeemed my faith in myself and in the time and effort I poured into the job. I did reply on FB to my student to tell her what it meant to me, but she will never know just how much. I printed her post out and have it posted in my work area. It is one of my proudest possessions.
Robert says:
It's the little things we do, or don't do, when we get the urging in life, that seem to make the greatest difference! For me it's sort of a still small voice of thought and reason, suggesting I do something purely out of the ordinary, very unordiary you might say. When I've listened and responded, it has been extraordinary, for both the recipient and myself. The old adage, it's more precious to give, than receive, is generally true. But, every once in a while a special gift is like a taste of heaven for the soul, that lasts a lifetime!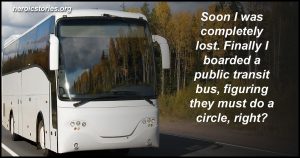 A small town girl is helped by a kind bus driver in the big city.
Jane Peranteau says:
What a great story! She was in one of anyone's worst nightmares, and it had a happy, inspirational ending. Thanks so much for sharing this.
Faith says:
And not just the bus driver — also all the folks on the bus who didn't throw fits that the bus driver spent all that time with you! How wonderful!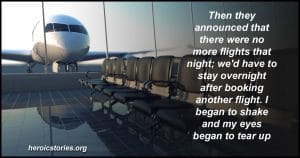 An adult with autism describes his challenges in traveling, and how he is helped by kind souls in the airport.
Linnie Bird says:
Having long held the opinion that asking for help from others may open a way for other people to 'shine' and blossom by giving assistance, this story made me smile. Sometimes folk will not ask for help because they are too proud or don't want to be beholden to anyone, and by their silence, refuse others the chance to step out of their mind-set and become 'givers' themselves – which is in itself, a wonderful gift.
Cheryl says:
Awesome story. Thanks for the reminder that not all disabilities are visible.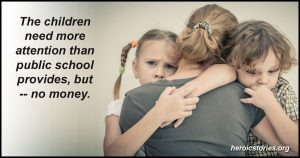 In the aftermath of destruction a small family finds their new neighborhood to be generous and kind.
Janis Pflieger says:
What a great reminder we need in our lives today – the frightened family, the fragile emotions, the desperate need of basic items, the lack of understanding a foreign language, the fear for a child's well being in strange surroundings. And yet, the International neighborhood in which this family now lives pulls together to welcome them and take care of their needs. A great lesson to all of us that we are indeed our "brother's keeper" and have an obligation to share whatever we have with those who have nothing.
Bunny says:
As Janis states, this is a beautiful reminder of what being a community means. I love how the writer describes these people in terms of street gang or covert operative or terrorist – gang, operative, terrorist of love and caring and generosity, I think.
Thanks, Leo, for re-printing this one. Maybe re-print it every so often, just as a reminder and as an aspiration.
Chuck Aylworth says:
What a beautifully told story. Like the Mother, at the end, I cried. On this Earth, we are but only one family, if we would only stop and notice that fact.
Anita Wald-Tuttle says:
I think I relished this account more than any others I have read in the past. The writer is sparse with words, but paints the picture so eloquently that the reader sees the whole drama with all of the nuances. Yes, I agree. This story needs to be repeated again and again until the lesson really sinks in that we are truly are our brother's (and sister's) keeper! Bless the writer for touching my heart so deeply!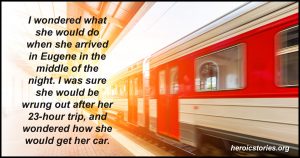 An elderly woman takes a long train ride and is helped at the end by a thoughtful young man.
Sidney Lichter says:
There are still a lot of nice and considerate folks in this world.
Chuck Aylworth says:
As a Eugenian, born and raised, I would say that this is not a heroic story. It's just what we are used to from the service people in town. Come to think of it, it is one, because all of the service folk in Eugene tend to be heroes. Come to visit and see for yourself. Don't move here though. It's said all the hippies move to Eugene, because there are no jobs available.
Kaye says:
And I know the train companies take care of their passengers, having completed part of a long cross-country Amtrak trip by bus, myself. Part of that trip took us up the Oregon coast, hugging a mountain with a steep dropoff on the other side. A bit scary, but the stop we made in Seattle was a highlight of the trip, and the people we met were all nice and considerate.

Until next time,


Leo A. Notenboom
Publisher: heroicstories.org
Co-Conspirator to Make the World a Better Place
Be sure to check out Not All News Is Bad for daily reminders of what might not be making the headlines, but should!